Picture Framing
Address:
1204 W. Mountainview Road
Johnson City, TN
37604
Short Business Description:
Providing quality custom framing to artists, photographers and home decorators for over 25 years.
Long Business Description:
Over 400 picture frame styles available including floater frames, shadow box frames, linen liners, seamless linen liners, crescent mats, foamcore, plexi glass and picture framing hardware.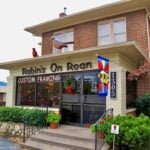 Address:
1305 N ROAN STREET
JOHNSON CITY, TN
37601
Short Business Description:
Robin's on Roan features CUSTOM PICTURE FRAMING as well as showcasing the works of many talented local and regional artists.
Long Business Description:
Robin's On Roan is a unique gift store filled with the work of local and regional artists and also is a Custom Picture Frame Shop. We are located in a a craftsman home that was built in the 1930's and is beautifully maintained.
Robin's On Roan carries a variety of pottery that is fun and functional. We have glass, wood, photography, fiber art, Solmate Socks, specialty cards, jewelry, copper mirrors, lamps, etc, etc. Robin and Kelly have over 60 years of combined custom picture framing experience. We have a solution for anything that you want to frame! Come check out our store!